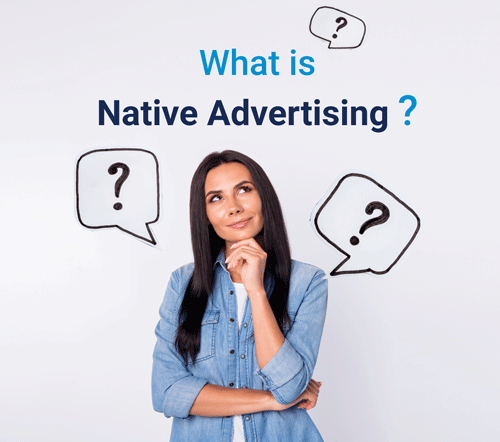 Native advertising refers to the practice of creating advertisements that seamlessly blend with the surrounding content, adopting the same design and behavior as the platform on which they appear. This integration is so effective that viewers perceive the ads as a natural part of the page.


How does it work?

Native advertising operates based on the principles of supply and demand. Publishers, who possess an audience and reach, seek to monetize their websites, representing the supply side. 
Advertisers, aiming to reach their target audience and achieve goals related to awareness, sales, or lead generation, represent the demand side.
Native ads are designed to seamlessly blend into relevant contexts without causing disruptions. They often resemble other articles and pieces of content surrounding them.

When a user visits a website that offers ad space, the publisher's supply-side platform (SSP) sends a bid request to a demand-side platform (DSP). The DSP responds with an advertiser's bid and metadata metrics. Then displays the advertiser's Ad on the targeted website.


Who can benefit from Native Advertising?

Native ads offer numerous advantages for advertisers, publishers, and users alike:
Advertisers: can leverage native ads to reach audiences during key moments when users are receptive to new discoveries. 
Publishers: can effectively monetize their websites without compromising the quality of the user experience, while increasing their revenues.
Users: can enjoy a non-disruptive browsing experience by engaging with branded content that aligns with their interests and preferences, avoiding the intrusive nature of display ads and banners.


The Benefits of Native Advertising
1. Engaging Audience Attention:
Native advertising provides a more effective method for building brand awareness compared to traditional display ads. According to Acquisio, native ads receive 53% more views by seamlessly integrating into the customer experience, avoiding intrusive disruptions.
2. Improved Campaign Performance:
Native ads consistently outperform other ad formats, driving better conversions and revenue. Studies indicate that native ads achieve an 18% higher purchase intent compared to traditional display ads. Additionally, 71% of consumers personally identify with brands that utilize native advertising, while only 50% feel the same way about display ads.
3. Increased Click-through Rates:
Native ads consistently achieve higher click-through rates (CTR) compared to traditional display ads, with rates up to 40 times higher.
4. Precise Targeting Capabilities:
Native ads enable contextual targeting, allowing advertisers to effectively engage specific audience segments. For example, a makeup retailer can target individuals who have previously consumed makeup-related content on a fashion-news site. This precise targeting enhances engagement and provides personalized ad experiences for customers.
5. Building Customer Trust:
In an era of digital mistrust, native advertising plays a vital role in fostering trust between brands and their audiences. By offering valuable content and avoiding intrusive techniques like pop-ups, native ads help establish trust. Research reveals that two out of three consumers from Generation X and Z trust branded content more than traditional ads.
6. Overcoming Ad Blockers:
Ad blockers have become a common tool for internet users to avoid unwanted ads. Since native ads match the look and feel of the surrounding content, they are less likely to be blocked by ad-blocking software, ensuring that your brand's message reaches the intended audience every time.


Choosing the Right Native Advertising Platform for You

In the era of increasing digital advertising, it has become crucial to determine the right strategy to promote your brand and engage with your target audience effectively. Among various advertising approaches, native advertising has emerged as a powerful tool that offers unique benefits when compared to other types of ads.
A well-executed native advertising strategy offers numerous benefits, including increased engagement, optimized targeting, enhanced trust, and improved website traffic. By utilizing reliable native advertising platforms and adhering to best practices, such as those offered by Speakol, brands can share their messages in trusted environments and reach readers who are genuinely interested in their content.
Speakol, as a market leader in the native advertising space, offers cutting-edge solutions that leverage the benefits of native advertising to deliver exceptional results. By harnessing enhanced user engagement, contextual relevance, improved brand awareness, ad blocker immunity, and comprehensive performance tracking, we empower brands to connect with their target audience in a meaningful way. Embracing native advertising, with the guidance of Speakol, can be a game-changer for businesses seeking to stand out in the crowded advertising landscape.
Sign up for FREE today and start leveraging hundreds of websites with over 1Billion visits every day, and we'll deliver your Ad to your audience.

Start Your Campaign: